---
Residential Garage Door Openers and Remotes
As many of us know, garage door openers and remotes make your home a more convenient, safe place. While openers make it so you can have ease of access with just the push of a button, many are also made with up-to-date security features to help keep your loved ones safe. If you're a business owner, regardless of the size of your commercial facility, it's important to have a reliable garage door opener to ensure traffic flows at a steady pace.
Our services range from garage door opener repair, replacement, installation, and more. Read about our garage door opener services and contact Royal Door to make your home more accessible today!
Garage Door Opener Repair & Replacement
Royal Door can either repair or replace your garage door opener depending on the damage. We carry all the necessary equipment to fix or replace your opener. If you are looking to replace your opener instead of repair, we can help guide you in the decision making process to make sure you have an opener or remote that best suits your wants and needs.
Garage Door Opener Installation
Whether you need a replacement garage door opener or a brand new one, let Royal Door be the one to install that opener for you. We can get the installation done quickly and affordably!
Residential Jackshaft Openers

: These specialty openers are designed to make life easy for you. They are mounted to a wall in your garage, directly next to your garage door so your ceiling space is completely open. These devices are extremely quiet and provide benefits such as a time-to-close system and security features.

Belt Drive Openers

: The mixture of extreme quietness and dependability makes these openers top-of-the-line. While they are more expensive, they are an excellent choice for residential areas.

Chain Drive Openers

: While not as quiet as a belt drive, chain drive openers are just as reliable and more affordable.

Internet Gateway

: The use of an Internet Gateway allows for you to connect your garage door opener with your smartphone. Allowing you to get notified if you leave your door open accidentally. If so, close your door remotely from your phone. While it's not available for all openers, call us today to see if one will work for you (some new openers have this feature built in).
---
Related Garage Door Products & Services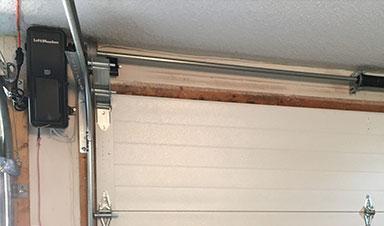 Replacement Accessories
Our replacement parts and accessories allow you to easily access your garage. Check them out!
Learn More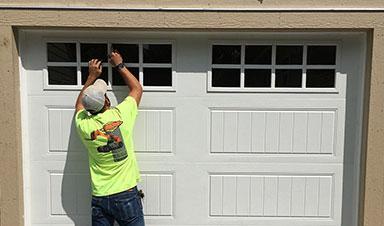 Garage Door and Opener Maintenance
Keep your commercial or residential garage door in working order. Learn about our maintenance options!
Learn More